Sakura Kayoko
さくら佳代子
Sakura Kayoko
Personal Information
Age
14
Gender
Female
Hair Color
Purple(Sakura)

Pink(Cure Nova)

Eye Color
Purple(Sakura)

Light Purple(Cure Nova)

Home Place
Taiyokawa
Relatives
Mitsuki Kayoko(Younger Twin Sister)

Lily Kayoko(Mother) Koutaro Kayoko(Father)

Alter Ego
Cure Nova

Precious Cure Nova

Theme Color
Pink(main)

White(sub) Yellow(sub)

Anime Information
Season
Cosmic Pretty Cure!!
First Appearance
CPC03
Sakura Kayoko
(さくら佳代子
Sakura Kayoko)
is the helper to the Cures in
Cosmic Pretty Cure!!
. She is the older twin sister of
Mitsuki Kayoko
and is the louder one of the twins. A 2nd- year at Universal Private Academy, she is the Vice-President of the Student Council and is the president of the Computer Club. She is very kind and helps anyone in need, as required for a Student Council V.P. In the middle of the season, she becomes Cure Nova with the help of Uni and the Heart Jewels. Cure Nova is the Cure of the planets and has power over time.
Personality
Appearance
History
Relatioships
Cure Nova
Etymology
Triva
Gallery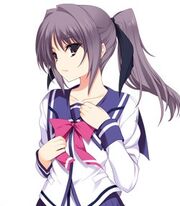 Ad blocker interference detected!
Wikia is a free-to-use site that makes money from advertising. We have a modified experience for viewers using ad blockers

Wikia is not accessible if you've made further modifications. Remove the custom ad blocker rule(s) and the page will load as expected.