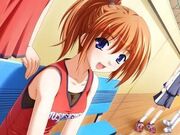 Maika is one of Double Smile Pretty Cure characters. 
Personality
Maika is energetic and funny girl that loves sports. She isn't in any team, because she loves a lot of sports and is working hard with all of them. She often helps clubs and is often in match.
History
Before series started
Becoming Cure Burning
Relationships
Yumeri Kaede - Kaede is Maika's childhood friend, but in Middle School they didn't have much time for each other, until Maika became Pretty Cure.
Kino Akoto - Akoto is Maika's rival and at the same time best friends. They have competions very often.
Gallery
Ad blocker interference detected!
Wikia is a free-to-use site that makes money from advertising. We have a modified experience for viewers using ad blockers

Wikia is not accessible if you've made further modifications. Remove the custom ad blocker rule(s) and the page will load as expected.