Pretty Cure All Stars New Season: The Battle of Light and Darkness
Comments

33
Share
Ad blocker interference detected!
Wikia is a free-to-use site that makes money from advertising. We have a modified experience for viewers using ad blockers

Wikia is not accessible if you've made further modifications. Remove the custom ad blocker rule(s) and the page will load as expected.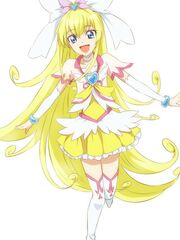 Pretty Cure All Stars New Season is the first Fan Movie created by CureVanilla57. 
The Blooming Pretty Cure team makes their first movie debut.
PreCure Max Heart
PreCure Splash Star
Yes PreCure 5 GoGo
Fresh PreCure
HeartCatch PreCure
Suite PreCure
Smile PreCure
Doki Doki PreCure
Let's Mirage PreCure
Listen PreCure
HeartBeat PreCure
Blooming PreCure

Atsuki: (Picks up phone) Hello?
Rina: (On phone and angry) ATSUKI!!! WHERE ARE YOU? WE'RE AT ROCK STONE PARK! HURRY UP AND GET HERE NOW!!!
Atsuki: Sorry Rina. I'll come right away.
Rina: You Better should.
-Opening Starts-
Atsuki:Where are they?
-Atsuki bumps into two pink haired girls-
Girls:Sorry
Atsuki: Eh? No. It's me who's sorry.
Girl 1: It's okay. I'm Aida Mana. This is Hanasaki Cherry.
Atsuki: Mana,Cherry. You're PreCure aren't you?
Cherry:Yeah...
Atsuki: Awsome! I'm Cure Fushia! Oh, sorry I forgot to introduce my self. I'm Sawai Atsuki.
Rina: OI ATSUKI!! WHAT HAS TAKEN YOU SO LONG.
Cherry: Wait. (happily) YOU ARE FUJIOKA RINA! CAN I HAVE AUTOGRAPH.
(Max Heart,Splash Star,Yes GoGo, Fresh,HeartCatch,Suite,Smile and Blooming Cures appear along with rest of DokiDoki Cures)
Makoto:Hey Mana!
Erika:OMG! It's Makopi!!
Yuri:Erika... Sorry. She's quite excited to meet you.
Makoto:It's fine. I've dealt with it before... (Points at Mana)
(Mirage Cures along with Tomodachi appear)
Atsuki: Why Don't You Join Our Picnic We Have Pudding,Cake,Sandwiches and... ICE CREAM!
Love: Yay! Picnics!
Daisy: Sure! I am Hungry!
Cherry: Me To!
Mana: Me Three!
Atsuki: Me Four!
(They All Smile)
Atsuki: Hey We Are All PRECURE...Right?!
Love: Yeah We Are!
Mana: But... WE ALL ARE!!
Daisy: But Let's Just Start The Picnic NOW!
Everyone: Yeah!
Plot
The Blooming team decide to have a picnic at rock stone park. What they didn't know that the villains were revived. Atsuki meets Cherry and Mana. With the help of the other Cures they manage to defeat to the villains. But can they defeat the source? With the power of the Miracle Clover Light find out how!
Yukishiro Honoka / Cure White
Kujou Hikari / Shiny Luminous
Hyuuga Saki / Cure Bloom
Mishou Mai / Cure Egret
Kiryuu Michiru / Cure Bright
Kiryuu Kaoru / Cure Windy
Yumehara Nozomi / Cure Dream
Natsuki Rin / Cure Rouge
Kasugano Urara / Cure Lemonade
Akimoto Komachi / Cure Mint
Minazuki Karen / Cure Aqua
Mimino Kurumi / Milky Rose
Momozono Love / Cure Peach
Aono Miki / Cure Berry
Yamabuki Inori / Cure Pine
Higashi Setsuna / Cure Passion
Hanasaki Tsubomi / Cure Blossom
Kurumi Erika / Cure Marine
Myoudouin Itsuki / Cure Sunshine
Tsukikage Yuri / Cure Moonlight
Hanasaki Kaoruko / Cure Flower
Cure Ange
Hojo Hibiki / Cure Melody
Minamono Kanade/ Cure Rhythm
Kurokawa Ellen / Cure Beat
Shirabe Ako / Cure Muse
Hoshizora Miyuki / Cure Happy
Hino Akane/ Cure Sunny
Kise Yayoi / Cure Peace
Midorikawa Nao / Cure March
Aoki Reika / Cure Beauty
Sakagami Ayumi / Cure Echo
Aida Mana / Cure Heart
Hishikawa Rikka / Cure Diamond
Yotsuba Alice/ Cure Rosetta
Kenzaki Makoto / Cure Sword
Madoka Aguri / Cure Ace
Regina / Cure Bouquet
Sawai Atsuki / Cure Fushia
Fujioka Rina / Cure Tulip
Suomi Hanila / Cure Daffodil
Midoria Elina Corinne / Cure Snowdrop
Ohime Aorina / Cure Clover
Matorika Reina / Cure Bluebell
Rikalow Shirika / Cure Poppy
Sorinika Sheika / Cure Glory
Hoshiyaki Hanako / Cure Eathnight
Hanasaki Cherry / Cure Blossom Mirage
Kurumi Daisy / Cure Marine Mirage
Myoudouin Sunny / Cure Sunshine Mirage
Tsukikage Rose / Cure Moonlight Mirage
Mirai Tomodachi / Cure Spark
Amai Yorokobi / Cure Love
Kirei Kanjo / Cure Happiness
Narihibiku Ongaku / Cure Joy
Shinjiru Kata / Cure Dream
Shinrai Jonetsu / Gracious Feelings
Kuro Yume / Dark Dream
Yugana Mirage / Cure Trust
Mascots
Mepple
Mipple
Porun
Lulun
Flappy
Choppy
Moop
Foop
Coco
Nuts
Milk
Syrup
Mailpo
Chiffon
Tarte
Azukina
Chypre
Coffret
Potpourri
Hummy
Candy
Pop
Shararu
Raquel
Lance
Dabyi
Ai
Heart
Sun
Passion
Lucky
Rock
Lavender
Hana
Miracle
Bright
Kira
Kanjiru