Misora Minami
美空みなみ
Misora Minami
Personal Information
Age
14
Birthday Date
March 21
Gender
Female
Hair Color
Orange (Minami)
Light Orange (Cure Courage)
Eye Color
Orange (Minami)
Blue (Cure Courage)
Home Place
coming soon...
Relatives
Unnamed Mother
Unnamed Father (coming soon...)
Kurai (Love interest)
Alter Ego
Cure Courage
Theme Color
Orange (Minami)
Orange (Main)
White (sub)
Pink (sub)
Anime Information
First Appearance
FSPC 01
Misora Minami 
(美空みなみ) is the secondary cure of
FriendShip Pretty Cure!
Her bestfriend is Harumi. She attends the HoshiYuuki All girls school. She plays every sport she can play, and thus joins the soccer club, volleyball club, and badminton club.
Her cure ego is Cure Courage (Kyua Korej) and she gains the power to control the fire element. 
Personality
Minami has a boyish personality, she is kind and energetic, she likes sports so much, hence she joined every sport club in her school. She is also very smart, and is the 2nd smartest in her school. She wants to beat the 1st smartest wich is Sachi Ryouko. 
History
She is one of the childhood friend of Emiko, and is she is her bestfriend. She is the very first friend Emiko made until her memories got erased by Mai-sama. She attends the HoshiYuuki All girls Highschool. Until she met Emiko and her other childhood friends.
Relationships
Emiko Harumi- Her very first friend. Their relationship is like that of Nozomi and Rin.
Akari Chiyo- She is on of her friends, as well as one of her Pretty Cure team mate.
Satomi Yukino- One of her friends and Pretty Cure team mate.
Sachi Ryouko- One of her friends and Pretty Cure team mate. 
Kurai- Its is hinted that Kurai likes Minami.
Cure Courage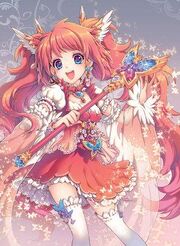 "The courage of ones friend! Cure Courage!"
ものの友人の勇気!
Mono no yūjin no yūki, Kyua Korej!
Cure Courage is the alter ego of Misora Minami. She is the cure representing courage. Her theme color is orange and she is represented by circles.
Etymology
Trivia
She also failed her first transformation as she was forced to join and she didn't have the 'right' feelings when she transformed.
Ad blocker interference detected!
Wikia is a free-to-use site that makes money from advertising. We have a modified experience for viewers using ad blockers

Wikia is not accessible if you've made further modifications. Remove the custom ad blocker rule(s) and the page will load as expected.