Kise Yayoi
[[Image:[[File:

.jpg]]|250px]]
黄瀬やよい
Kise Yayoi
Personal Information
Age
17
Gender
Female
Hair Color
Bright Yellow (Cure Peace)

Dark Yellow (Yayoi)

Eye Color
Bright Yellow (Cure Peace)

Light Brown (Yayoi)

Relatives
Kise Yuuichi (father, deceased)

Kise Chiharu (mother)

Alter Ego
Cure Peace
Theme Color
Yellow
Anime Information
Season
Smile Pretty Cure!
First Appearance
SmPC01
Kise Yayoi is supporting cures Cures in Smile Precure! New Generation. While being a little bit of a crybaby, she is actually quite a strong girl at heart. She is good at sympathizing with others, and will always keep a promise.
Personality
She is a shy girl with a big heart also crybaby
Relationships
Airi Hojo- she is the next cure peace.
Hoshizora Miyuki - Being a shy girl, Yayoi understands how Miyuki must feel being the new girl in class, and so does her best to make Miyuki feel welcome. She also shows genuine concern for Miyuki whenever she gets hurt.
Hino Akane - Despite how Akane always teases Yayoi about being a crybaby, the two seem to be good friends and are often seen together. 
Kise Yuuichi- When Yayoi was younger, she was very close to her father. Yuuichi loves her and once said after a stressing time from work, he would always be relaxed when Yayoi comes to him. 
Aoki Reika-Yayoi likes Reika the same way Reika does. Theres not much about their relationship during the series.  Reika likes her artworks and fascinated/amazed on how she does her art.
Cure Peace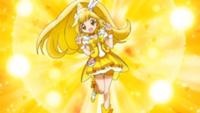 "Sparkling, glittering, rock-paper-scissors! Cure Peace!"

"ピカピカぴかりんじゃんけんポン ♪ キュアピース!"

"Pikapika pikarin jankenpon ♪ Kyua Pīsu!"
Cure Peace (キュアピース, Kyua Pīsu?) is the Pretty Cure alter ego of Yayoi. Cure Peace has the power of Lightning.