Contribute to the Wiki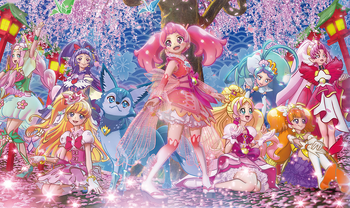 "The wiki where anyone can contribute to!"
―Everyone, September 5, 2012

Fandom of Pretty Cure Wiki is a place where everyone can share their ideas with. Write your page about your own Pretty Cure group, and then expand to writing a page about your characters and your episode plans as if it really gets published into an anime!
Not sure what to do to get started? You can create a page, edit a page, add a photo or add a video. Please read the Policy to make sure you don't break any rules.
Notice
1. The admin FairySina has kindly laid out some important rules that everyone should follow in which you can read right here! These rule shouldn't be a surprising or difficult in order to keep the wiki safe for everyone!


2. The Fandom of Pretty Cure Wiki poll has been updated, hurray!

- Cure Wiki
Blogs
People have been leaving here because of the bad …

Read more >

So...Does anyone know about Doll Divine? Well if …

Read more >

Hi, it's me Hickmanm. This is sort of difficult f…

Read more >
Are You New to The Wiki?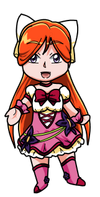 Hello, are you new to the wiki and need some help before editing? Then follow Cure Wiki and she will guide you through the great Fandom of Pretty Cure universe! You will be able to fight your way through to the joy of editing once you learn the magical powers to achieve it!
Follow this link to find some nice tips for the beginning!
Poll!
What are your thoughts of HUGtto! Pretty Cure?
Statistics
Today it is: January 20, 2018
Fandom of Pretty Cure Wiki counts 7,488 article pages in total.
Fandom of Pretty Cure Wiki counts 10,321 image files in total.
Fandom of Pretty Cure Wiki counts 229,704 edits in total.
Affiliations

Ad blocker interference detected!
Wikia is a free-to-use site that makes money from advertising. We have a modified experience for viewers using ad blockers

Wikia is not accessible if you've made further modifications. Remove the custom ad blocker rule(s) and the page will load as expected.